Introducing ClientSuccess Data Exports + Other Recent Releases
Introducing ClientSuccess Data Exports
We're proud to introduce Data Exports, a powerful tool that enables ClientSuccess Admins, Executives and Managers to generate on-demand exports from pre-defined export templates under Global Settings > Data Exports.
Benefits to You
While exporting data from the Clients Screen has been available and provided great value and visibility around high-level information, many of our customers have asked for the ability to self-export other key data sets.
For those unable to take advantage of our Open API, Data Exports will be a great way to access more detailed data around several client-related areas.
What Export Templates Are Currently Available?
The introduction of Data Exports includes eight standard, predefined export templates, listed below:
Engagements
Clients
Contacts
Pulses
Most Recent Pulses
Subscriptions
SuccessCycles
Tasks & To-dos
**Note: We'll likely add to the standard export templates as we continue to get a feel for the type of data most customers are looking to export. Please feel free to channel feedback through your Assigned CSM or support@clientsuccess.com.
Getting Started
***Data Exports is only available for ClientSuccess Admins, Executives and Managers***
To generate your own on-demand exports, ClientSuccess Admins, Executives and Managers will want to go to Global Settings > Data Exportsand click "Create Export".
​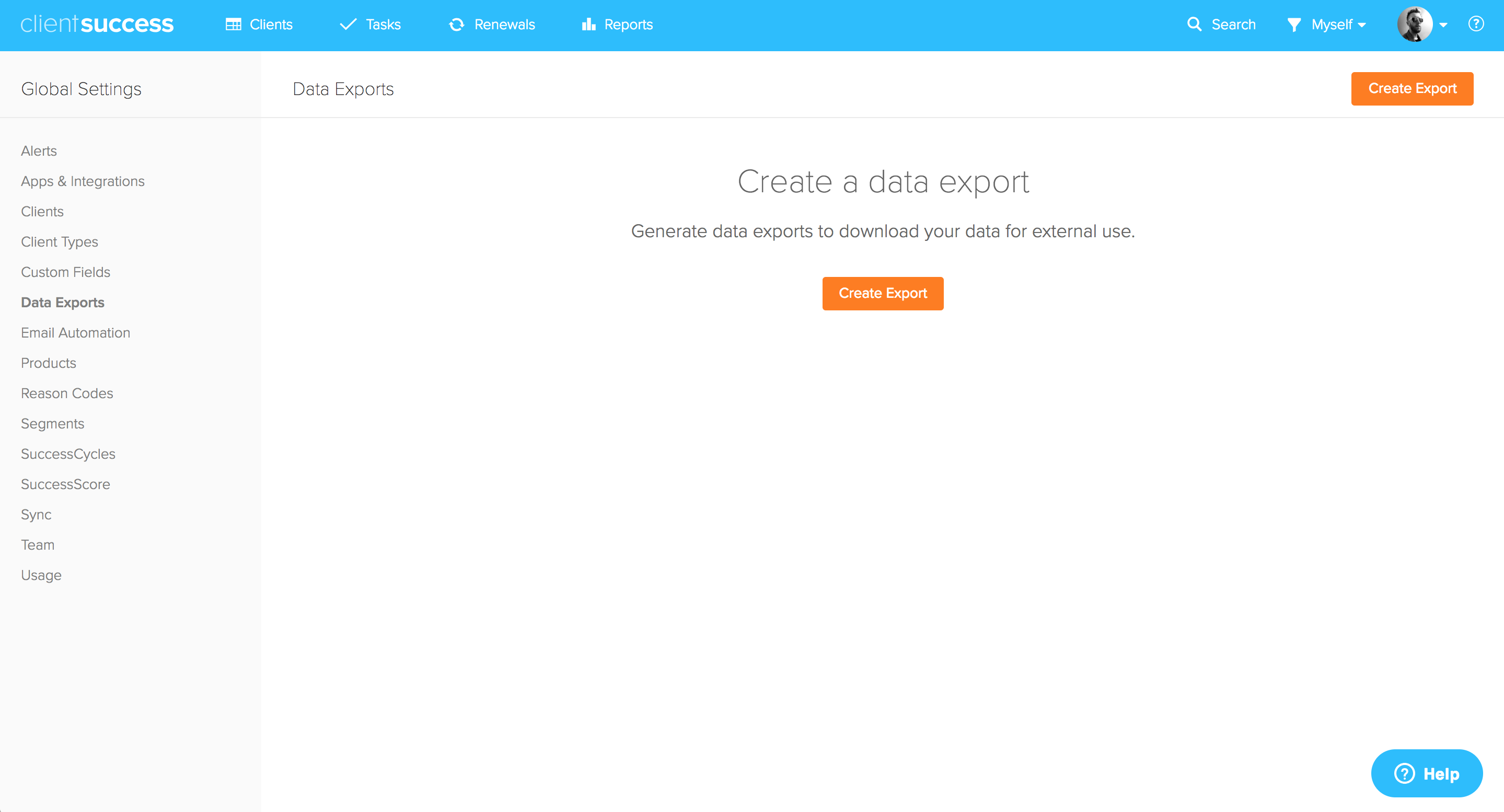 ​
You will then be prompted to name the export, leave a description (optional but strongly recommended), choose an export template, and select your visibility preferences (either just for you or for your company ie other Admins). You'll then want to click "Generate Export".
​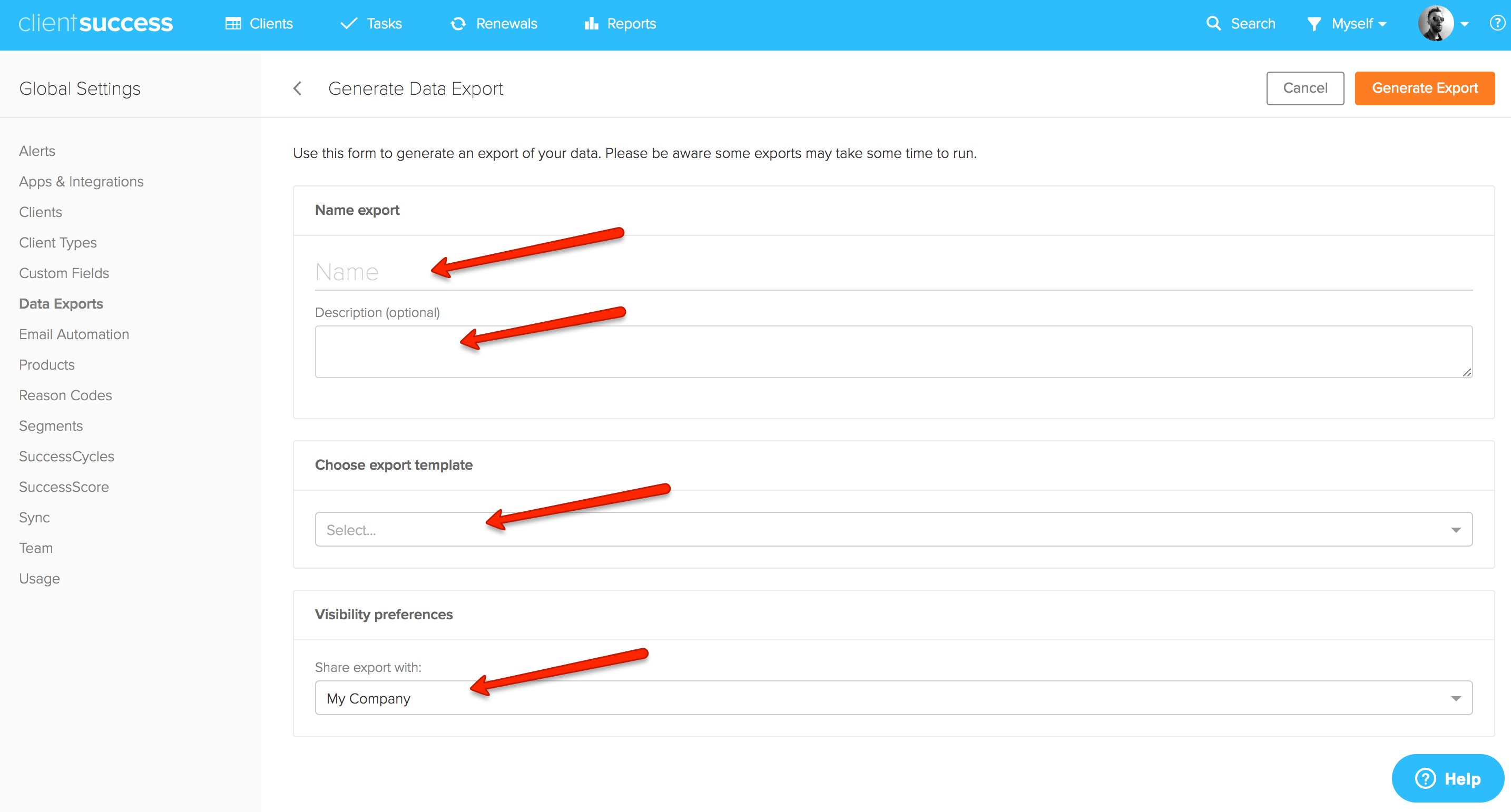 ​
Note: Please be aware some exports may take a few minutes to process once "Generate Export" has been clicked, simply due to the size of the data being exported.
Once Generated, Here Are a Few Things to Know
On-demand exports only include the data from the date it was created (point-in-time)
There is no limit for how many on-demand exports can be generated
The Data Exports screen shows who generated each export, when it was created, when it expires, and whether or not it's shared
The exports are available for download for 30 days and will then be removed from the list (expiration date shown on Data Exports screen)
Exports that are shared with "My Company" can be downloaded by any ClientSuccess Admin, Executive or Manager
Exports can be removed at any time
​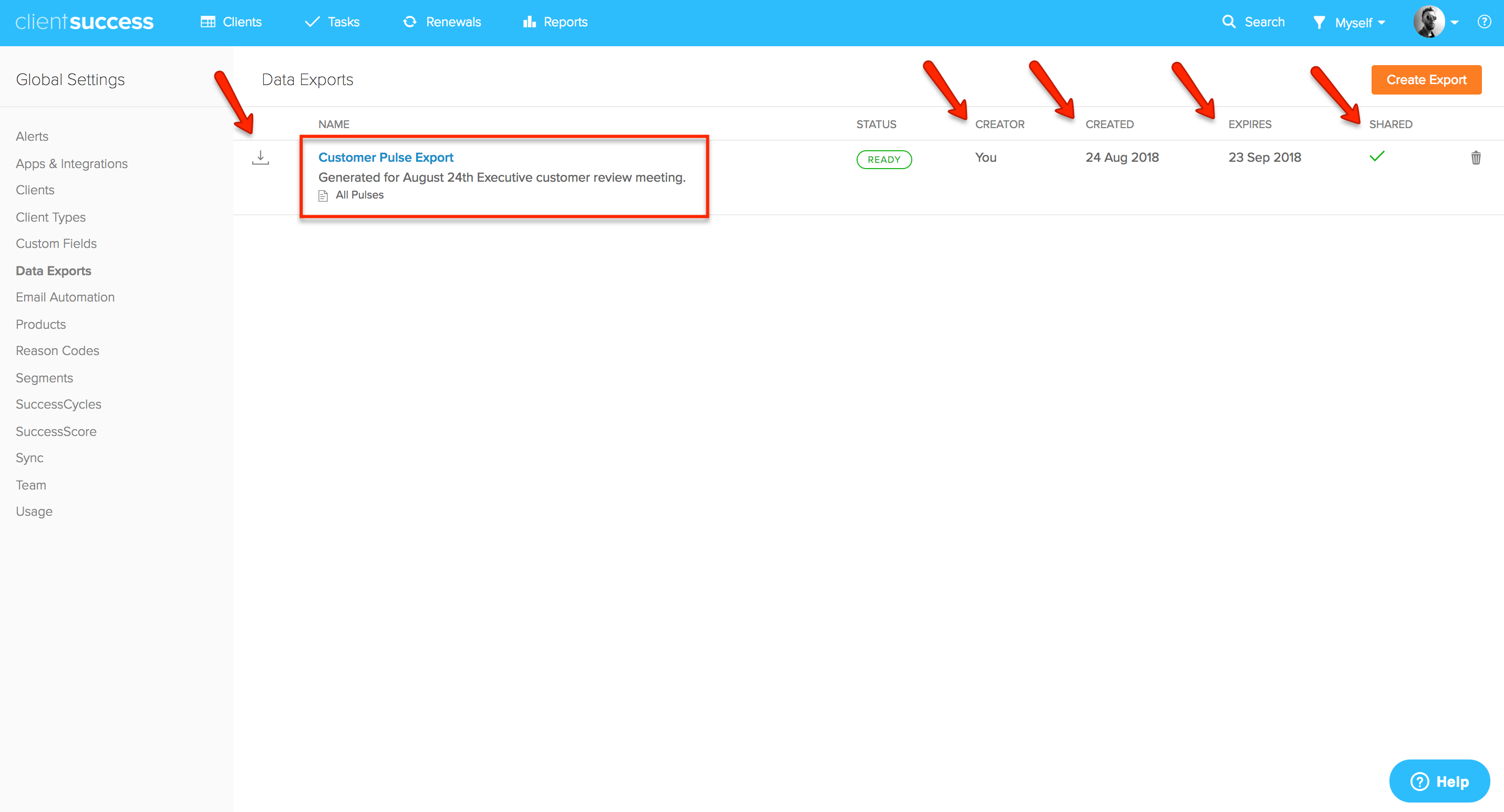 ​
Other Recent Releases
In case you've missed it, here are some other recent releases now available: